Product Details
Drysure Boot & Shoe Dryers do not use batteries, electricity and heat to dry your footwear. Drysure's patented design give a drying performance that is 12x more effective than air drying and helps reduce bacterial and fungal growth which improves the odour.
The ability to Any Anywhere Anytime means you can stop the exponential bacteria and fungal growth.
Use them in your locker, in the boot of your car or just in your gym bag!
Drysure are excellent at drying footwear so think about your shoes below:
Trainers,
Cycling Shoes,
Golfers Shoes,
Walking Boots
Work Boots
Any other footwear that gets damp or sweaty.
Features
1. No Heat or Electricity
With Drysure you are able to dry your footwear Anywhere, Anytime. You do not need to worry about finding power sockets or batteries again.
2. Improve Personal Hygiene
By using Drysure to dry your footwear you will reduce the bacteria and fungal growth within your footwear.
3. 12x Better than Normal Air Drying
The High Gloss Voronoi Outer Shell combined with the Silica Oxide Beads improves the airflow thus improving Drysure's Drying Performance.
4. Long Lasting
Drysure Extreme can absorb up to 10 days of sweat and moisture before needing to be re-activated. Drysure Active has 7 days.
5. Quick Drying
Dry your running and cycling shoes in as little as 4-6 hours. Ski Boots and Motorbike boots will dry over night.
6. Dry Properly, Dry Safely
Drysure allows you to safely dry your footwear without heat which can cause damage. Great for leather boots & golf shoes.
How Does It Works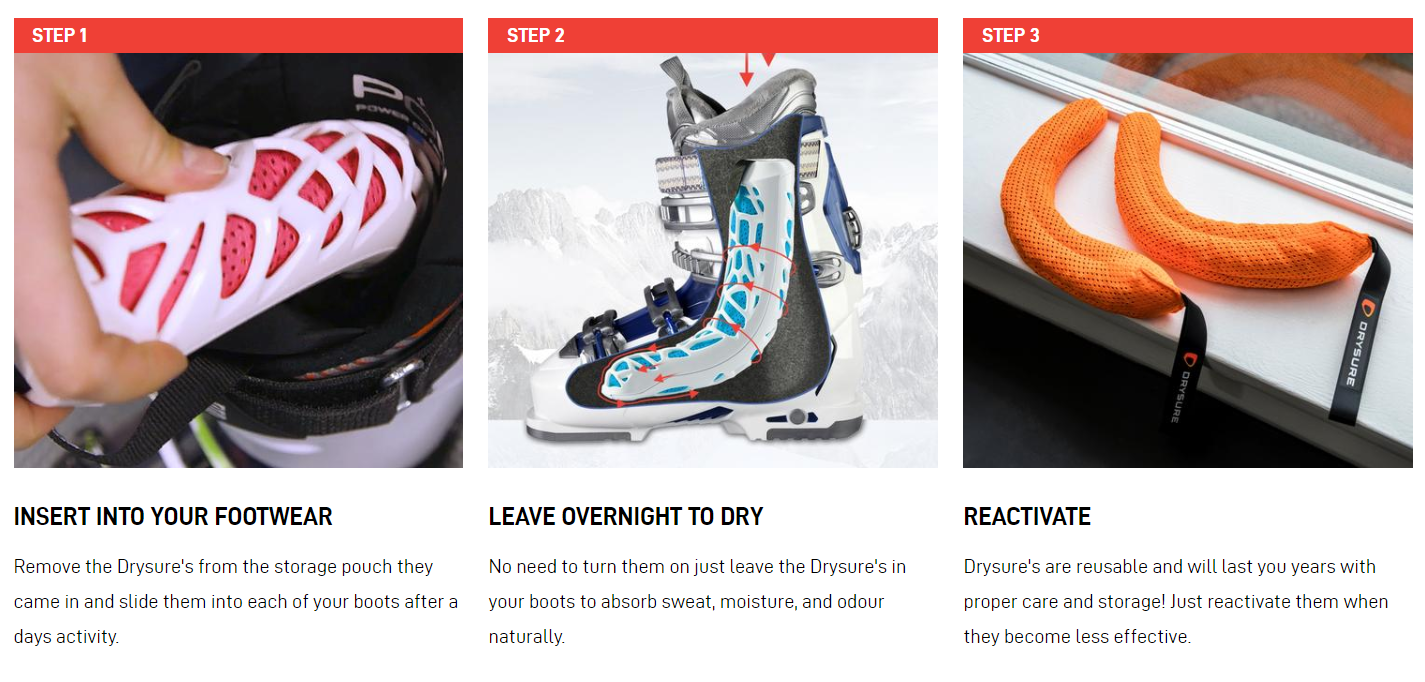 Usage Directions
HOW TO USE DRYSURE:
You do not need to activate them before use but to be sure you may want to put them in the oven for 1 hour to make sure they are fully activated for your holiday. If you get them out of the PVC Pouch and leave them lying around absorbing moisture then you will have to do this.
After a doing your activity (Skiing, Snowboarding, Running, Cycling etc..) just put Drysure inside your footwear when you take your foot out.
You do not need to turn them on or off - just leave them in there until your need the footwear again.
When you take them out, PUT THEM BACK IN THE PVC POUCH so they do not absorb the moisture in the air.
If you have access to a radiator then give them some heat.
When they start to become less effective at drying then follow the instructions below on how to re-activate them.
QUICK GUIDE TO RE-ACTIVATE:
Re-activate when drying becomes less effective.
3 ways to re-activate:
Put them on a Warm Radiator
In Direct Sunlight
Remove the outer shell and put the bead bags on the middle shelf in the oven @ 100ºC (212ºF) for 1-2 hours. Please Do Not Grill Them, the best setting is Fan Assisted Oven. (Most effective method)
WARNINGS:
DO NOT GRILL DRYSURE AS THEY WILL MELT
DO NOT PUT IN THE MICROWAVE
DO NOT EAT SILICA OXIDE BEADS
KEEP AWAY FROM CHILDREN AND ANIMALS – DRYSURE ARE NOT TOYS
DO NOT TAKE UNDERWATER EVEN THOUGH DRYSURE ARE VERY GOOD AT ABSORBING
More Detailed Instructions
Inside your Drysures are specially designed silica oxide bead bags which target areas like the toe and heel where sweat and moisture builds up. To ensure that these bags are working attheir best and keeping your footwear fresh please see the instructions below:
1. Drysure Boot and Shoe Dryers are designed to absorb up to 10 days of sweat/moisture before they need reactivating.
2. If your boots are soaked through then Drysure will help but they may not fully dry the boots as they could be too wet (See Note Below on how to use Drysure in this case.
3. To recharge your Drysures there are a number of ways:
Firstly you can pop them on a warm/hot radiator when they are not in use.
Secondly put them on a window sill in direct sunlight.
The third way and most effective at fully recharging them is by removing the outer shell and putting the bead bags in an oven at 100°C (212°F) for 1-2 hours.
4. Do not put the bead bags in the microwave as this will damage the silica gel beads. (It is possible to tell if they have been heated in a microwave and this will invalidate your warranty.
5. To keep your Drysure cases clean and hygienic wash them in warm soapy water frequently.
6. Please do not eat the Silica Oxide Beads even if you are hungry, have a Apple instead, but if you do by mistake then please seek medical advice straight away.
7. While the Drysures are very good at absorbing moisture they are can't handle being submerged so do not take them scuba diving.
8. Drysures are not toys even if you think they are so best to keep them away from children and animals.
Soaking Wet Shoe
No Shoe dryer will dry a soaking wet shoe that well without some help from your first. This is what I would do to dry really soaking wet shoes:

1. Pour out any water in the shoe
2. Soak up any loose easily absorbable water with a towel, or even newspaper first so that the shoe is just very wet.
3. Then give the shoe a very quick burst with the hairdryer just to warm the moisture up.
4. Now pop in a pair of fully re-charged (re-activated) Drysure Active Shoe Dryers and leave them for about 24 hour in a dry environment, maybe in your boiler cupboard or somewhere like that.
The Drysure's will absorb any moisture in the shoe quicker than if they were just left to dry with the air and this important to stop fungus and bacteria growing which is what creates smelly shoes.
If you Shoes are just wet from running in the rain or from sweat then just pop Drysure in when you take them off and leave them and they will dry overnight.
Please note if footwear is soaked through then you may need to re-activate straight after drying is finished.
Customer comments
| Author/Date | Rating | Comment |
| --- | --- | --- |