Product Description
For "stability of stepping motion" in bicycles and running
Placing a knee dash under the patella (at the base of the patellar tendon), which puts a heavy burden on exercises such as biking and running, will increase the stability of stepping and landing. Muscles that remain swaying due to the vibration of landing consume muscle strength and put a strain on muscle fibers during jumping. Applying knee dash reduces muscle shaking and blurring.
By attaching a knee dash and releasing (relaxing) the skin and fascia around the joints that move greatly, it effectively supports the supple movement of the muscles.
11 colors available: Fresh Green / Charcoal Gray / Purple / Turquoise Blue / Magenta / Red / Pink / Orange / Yellow / Beige / White
12 places with "How to apply": In order to have the tape applied correctly, the instruction manual of the basic application procedure to each part is enclosed in the product package.
Quantity: 6 sheets
How To Apply
To ensure that the tape is applied correctly A manual of the basic procedure for attaching to each part is enclosed in the product package.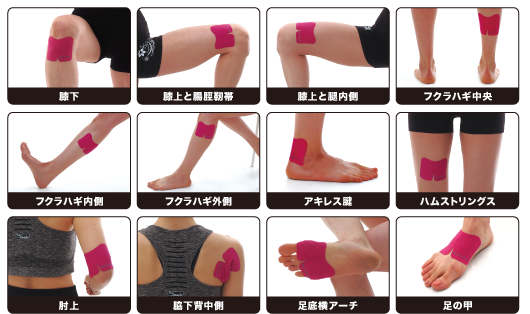 Product Features
The elastic material is LYCRA®, a polyurethane elastic material used for tights and swimwear, and covered with cotton. C ・ S ・ Y® "is used.
It produces high elasticity, elasticity recovery, and holding power, and the part that comes into contact with the skin has a soft texture of cotton. By making full use of the excellent performance of the material, we have achieved excellent elasticity and gentleness to the skin according to the movement of the skin and muscles.
Inside The Package
Quantity: 6 sheets
Material: New Halle AKT (97% cotton, 3% polyurethane)
Glue: Acrylic resin Peeled
Release paper: Paper