Product Description
The window of 20 minutes immediately after your activity is when your body is most susceptible to wear and tear, but also the most receptive to a recovery drink formulated with the ideal ingredients. When the right nutrients are consumed within this crucial 20 minute window, the body is amenable to directing these nutrients towards recovery processes aiding the muscle damage sustained during your activity that needs to be repaired and the body needs the nutrients to promote the building of new muscle. If you do not recover completely, you are more susceptible physical and mental damage, which negatively impacts your training and performance.
Unived Elite Recovery Mix is a pioneering recovery drink mix with the right ratio of carbohydrates to protein, along with the electrolytes, vitamin D3, vitamin K2-7, vitamin C, KSM-66™ (ashwagandha extract) and curcumin extract for muscle repair, muscle building, lowering fatigue, and eliminating cramping.
Features
Clinically proven 4:1 ratio of carbohydrates to protein
45g of simple carbs and 10g of organic pea protein
500mg Vit C, 100mcg Vit K2-7, 1000 IU Vit D3
600mg KSM-66 (Ashwagandha), 200mg Curcumin, 610mg Electrolytes
220kcal per packet

4:1 RATIO OF CARBOHYDRATES TO PROTEIN

Sports nutrition research has proven time and again that the window of up to 20 minutes after intense exercise – the 'golden window of opportunity' – is when the body is most accepting of nutrients to recover from strenuous exercise. Evidence shows that when carbohydrates and protein – two of the most important macronutrients – are ingested in the ratio of 4:1, they are utilized in the most effective manner towards the body's recovery.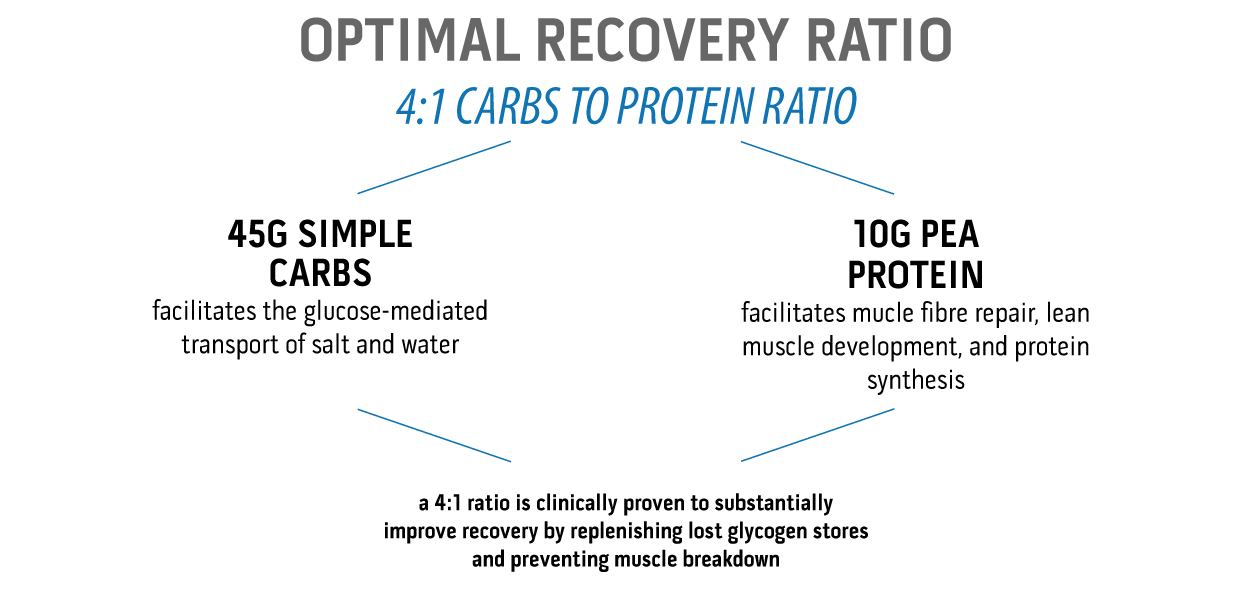 Unived Elite Recovery Mix delivers these macronutrients for recovery by combining dextrose & maltodextrin (high GI carbohydrates) and plant-based pea protein isolate in the 4:1 ratio.
Consuming multiple food sources for recovery after exercise can cause stomach distress. Additionally, the nutrients in these foods cannot be broken down immediately by the body, which means that you risk losing out on the 20-minute window. Unived Elite Recovery Mix recovery drink mix offers a concentrated, convenient source of all the nutrients you need for recovery, delivered to your body in a manner where they can be instantly broken down and utilized by the body.
UNIVED ELITE RECOVERY MIX REPLENISHES, REBUILDS, & RESTORES

The carbohydrate in Unived Elite Recovery Mix stabilizes blood glucose levels and refuels the muscle glycogen lost during your endurance activity. This increase in muscle glycogen promotes the repair of muscle, and the development of new muscle tissue.
Unived Elite Recovery Mix has plant-based pea protein, a source of the full-spectrum of branch chain amino acids (BCAAs) necessary for production of new protein in the body. The body does not naturally store these amino acids and hence, Unived Elite Recovery Mix supplements your system with the fundamental building blocks it needs for protein synthesis, complete tissue repair and growth, and recovery. Additionally, pea protein is fully digestible, making it completely available to your body for building new muscle.
ESSENTIAL ELECTROLYTES
Unived Elite Recovery Mix restores the levels of sodium, potassium, magnesium, and chloride lost to sweat during your activity. Hydration levels of the body can remain affected up to 48 hours after exercise, and these electrolytes play an important role in regulating hydration across cells and major organs.
KEY VITAMINS
Vitamin C as an anti- inflammatory & antioxidant with citrus bioflavonoids to aid vitamin C absorption, plant-based vitamin K2-7 to give relief from muscle cramps and improve cardiorespiratory fitness, and plant- based vitamin D3 to support optimal bone health and aid in injury prevention.
PHYTONUTRIENTS
KSM-66®, a patented extract of ashwagandha that is clinically proven to aid athletic performance and boost recovery, while also offering stress relief and cardiovascular benefits. Clinically, it has been found that KSM-66™ produces 98.9% reduction in post exercise build-up of serum creatine kinase levels indicating less degree of muscle damage. Thus, helping athletes recover after working out and during continuous activity repetition. Athletes have also observed increased cardiorespiratory endurance, improved max resistance load and muscle recovery, while also offering stress relief benefits.
Curcumin to reduce inflammation and offset some of the performance deficits associated with exercise-induced muscle damage.
Recovery is a big factor in determining performance and in preventing injury, which is why recovery nutrition should be a part of your overall fueling strategy.
Unived Elite Recovery Mix is all you need to carry with you after a big race or training session to ensure that you are ready and primed for the next big challenge.
UNIVED Formula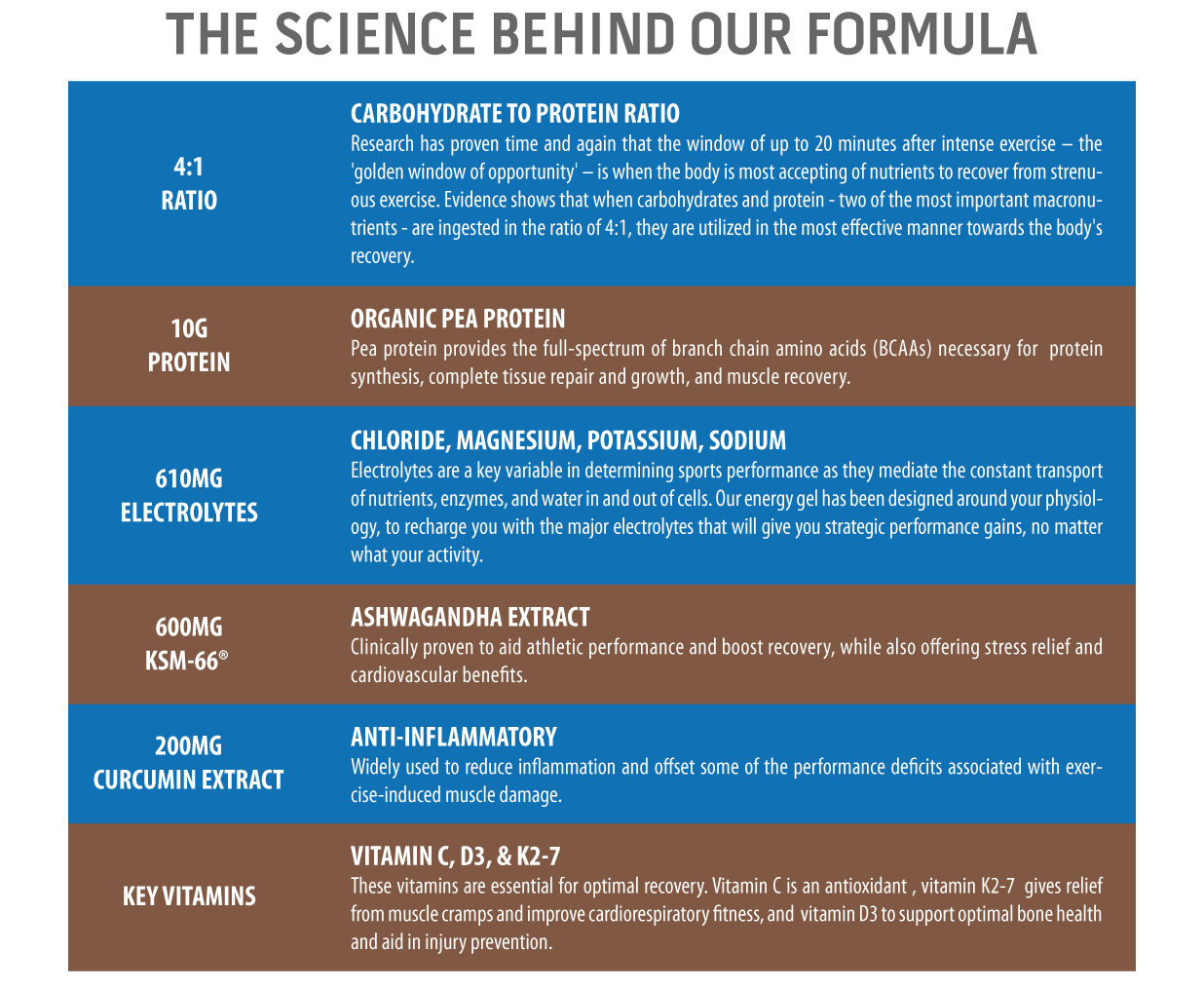 Consumption Guide
For a hypertonic solution, mix 1 packet with 15-17 fl oz (450-500ml) water. Consume 1 serving within 20 minutes of finishing your activity. For longer & more intense activities, you can follow up with another serving after 30 minutes. For ultra-distance activities, you may consume 1 serving every 5 hours, during your activity.