Product Descriptions
The Unived Gel is a sports energy gel that provides the energy and endurance support that you need – in a highly palatable, easily digestible, and extremely portable gel packet.
We have been producing Endurance Gels since 2015 and our gels have received World recognition among the running & ultra-running community, well known for their water-based lightness, fresh taste, and easy to consume consistency. Unlike other thicker gels which typically require water to wash them down and get them out of your throat, our gels are light and just thin enough to go down without any additional support.
The gel packet fits in easily with the rest of your gear, and can be conveniently carried along in a hydration pack, waist pouch, or short pockets.
Features
26grams Hi-GI quick release carbohydrates and 110kcal per sachet
Water based, no GI-distress, light on your stomach
Used by Elite athletes Globally
Caffeine: 0, 50mg, 100mg options
Made with love, in India

UNIVED Formula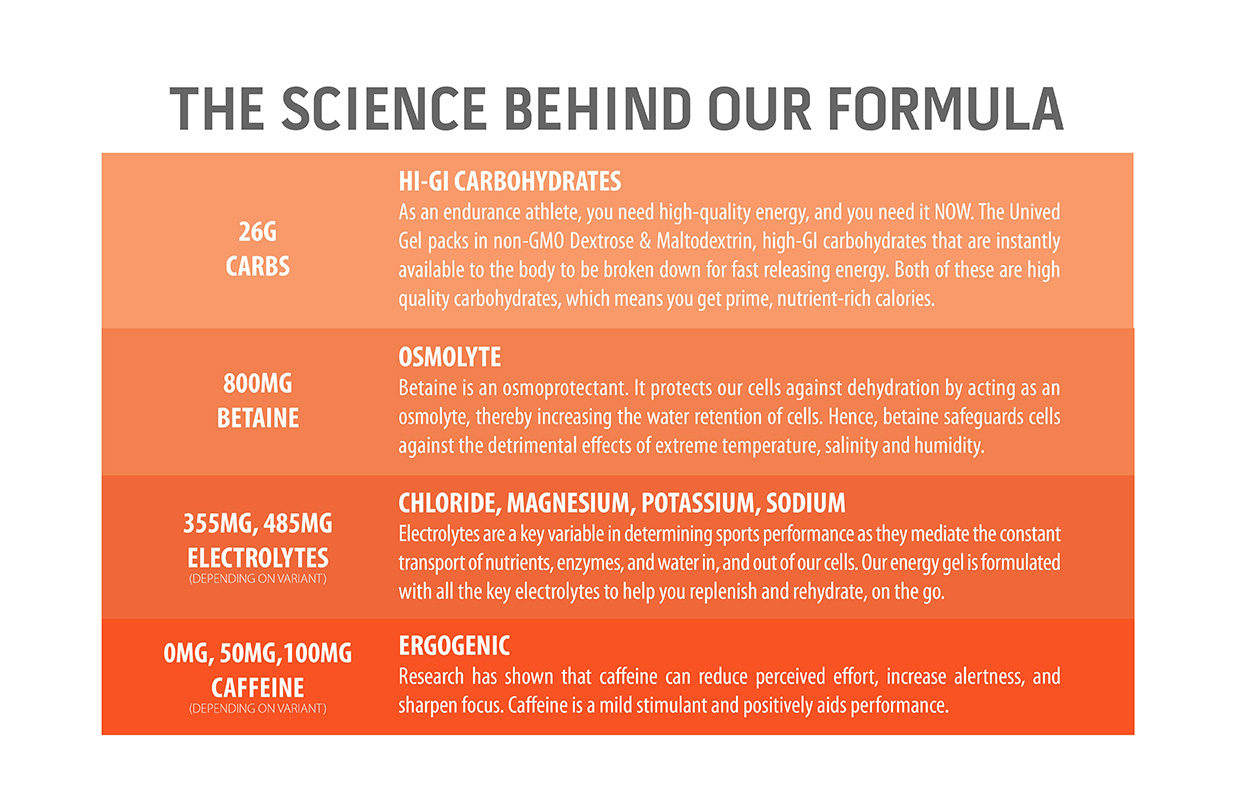 Consumption Guide
We strongly feel that this new combination gives you complete freedom. When temperatures are hot, you may find yourself drinking a bit more, and when temperatures are cooler, you may find yourself leaning towards more concentrated forms of energy, like the gel.
CHART OF VARIOUS COMBINATION OPTIONS
Some equations for you to consider below, based on hourly intake:
2 Unived Regular Gels = 220kcal
1 Unived Elite Gel + 1 Regular Gel = 300kcal
1 Unived Elite Drink Mix + 1 Regular Gel = 300kcal
2 Unived Elite Gels = 380kcal
2 Unived Elite Drink Mixes = 380kcal
1 Unived Elite Gel + 1 Elite Drink Mix = 380kcal
The Regular Gel can also be used in combination with Elite Gel or Elite Drink Mix. For example, one Elite Gel + one Regular Gel will give you 190+110 = 300kcal, delivering a total of 56g of simple carbs and 15g of complex carbs. Since 60g simple carb is the maximum we can absorb per hour, this combination delivering 56g helps us stay within limit. This combination tilts the ratio by increasing the total simple carbohydrates to total complex carbohydrates (meaning, it is no longer a 2:1 ratio) and gives you an edge with a spike in energy levels.